Fight for $15 chapter in Memphis alleges that officers engaged in surveillance and intimidation of fast-food worker organization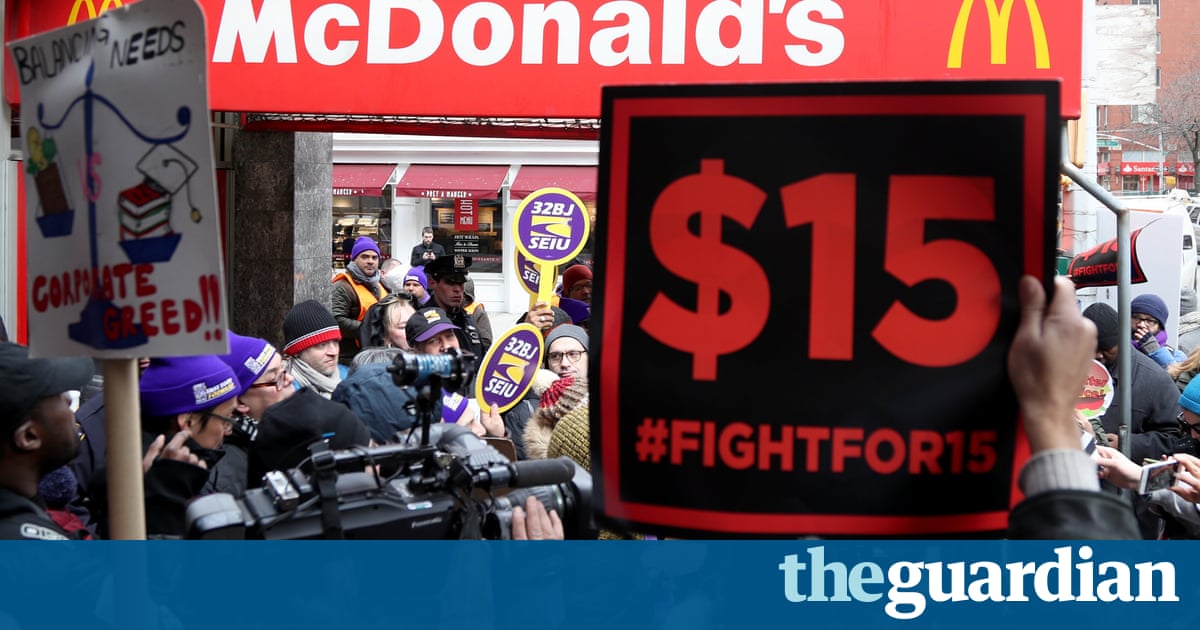 Police claimed they had authorization from the president of McDonalds to arrest protesting fast food workers, according to a civil rights lawsuit filed on Wednesday against the city of Memphis, Tennessee.
The suit alleges that local police engaged in a widespread and illegal campaign of surveillance and intimidation against a local chapter of the Fight for $15 fast-food worker organization as it campaigned for an increase in the minimum wage and union rights for fast food workers.
Officers followed organizers home after meetings, ordered workers not to sign petitions and blacklisted organizers from city hall, according to the suit. They claimed to have been authorized by McDonalds, the worlds largest fast food chain, and in one incident a McDonalds franchisee joined police in tailing protesters.
The suit alleges that a campaign of harassment began after Memphis workers participated in a nationwide day of protest on 4 September 2014. Since then, police officers have repeatedly threatened workers with arrest during protests, at one point telling them they had authorization from the president of McDonalds to make arrests. On multiple occasions officers seemed to take direction from McDonalds, the complaint charges.
Last November, police officers stepped behind the counter of a fast-food restaurant to prevent workers from signing petitions calling for better working conditions, the protesters lawyers claim. They also allege that officers have enforced local permit laws on the predominantly black workers in the Fight for $15, while allowing protests by mostly white crowds to continue unabated.
The suit, brought against the city, Mayor James Strickland and the police director, Michael Rallings, alleges that the police have violated a 1978 consent decree that banned political surveillance following revelations the department had spied on civil rights activists, war protesters and other radicals for years.
McDonalds was not immediately available for comment. The Memphis mayors office declined to comment on pending litigation.
The suit, filed in US district court for the western district Tennessee by the Fight for $15 mid-south organizing committee, alleges the Memphis police department [MPD] engaged in improper and illegal surveillance tactics aimed at having a chilling effect on the freedom of speech and the right to assemble or associate.
In February, Fight for $15 held a teach-in about Andy Puzder, the fast-food CEO who was, at the time, Donald Trumps pick to be labor secretary.
According to the complaint, four unmarked cars and a patrol car showed up outside the teach-in and followed an organizer at the meetings conclusion. When an organizer asked one of the officers why he was being followed, the officer replied: Were just trying to make sure everyone stays safe.
Jerry Martin, an attorney for the mid-south organizing committee, said: The MPD is engaging in an intentional and illegal campaign to intimidate workers in an effort to prevent them from exercising their constitutional right to speak out … Weve read about such behavior in history books, but unfortunately, in Memphis, intimidation and harassment of protesters is not just a thing of the past.

Ashley Cathey, a Churchs Chicken worker and member of the Fight for $15 national organizing committee, said: Theyre trying to stop us from speaking out, but even though its riskier, we know we have a right to protest and were not going to be intimidated … Our Fight for $15 is changing the country and its the Memphis police department thats going to have to change along with it.
Read more: https://www.theguardian.com/business/2017/mar/01/mcdonalds-fight-for-15-memphis-police-lawsuit