Crude Bomb
The only information detectives have for sure is that the package was shipped from Raipur, under a fictitious name and address.
The killer, who paid 400 rupees ($6.14; £4.35) for the shipment, had singled out the courier company carefully: there were no CCTV cameras in their center, and the package was not checked.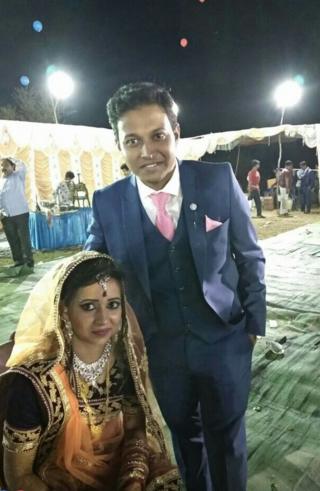 One of the last pictures of the couple at the reception
The package then started a 650km journey on three buses and crossed through four pairs of hands before reaching Patangarh on 20 February.
The delivery man made a trip the same evening to Soumya Sekhar's home but returned without handing over the parcel because "he saw a huge wedding reception going on at the place", Dilip Kumar Das, the local manager of the courier company, pointed out. Three days afterward, the man finally dropped the package at the fence.
Forensic experts are still struggling to determine how intricate the bomb was. On the face of it, detectives claimed, it turned out to be a rather simple device enclosed in jute thread which spewed white smoke after the explosion.
The lack of solid leads means that the detectives are considering several motives behind the murders.