Pass the avocado, please!
A new analysis of existing research shows that consuming the creamy fruit can help with metabolic syndrome, a constellation of diseases and symptoms that include heart disease and type 2 diabetes, high cholesterol and obesity.
Researchers analyzed more than 100 published studies that examined how consuming avocado can affect individual aspects of metabolic syndrome. They found that avocado, along with avocado oil or even peel, may have protective effects on the heart, including lowering bad cholesterol, reducing hypertension and lowering risk of obesity.
An avocado-rich diet had the most positive effect on good HDL cholesterol levels and may lower bad LDL cholesterol levels. That's important because high levels of bad cholesterol is one of the biggest indicators of heart disease risk, according to the National Institutes of Health.
The researchers also noted that avocados can reduce hypertension as well as lower the risk for obesity and type 2 diabetes. All of these elements are critical in fighting metabolic syndrome, they wrote.
Most of the research concentrated on consuming the meat of the avocado, AKA the delicious stuff you spread on your toast, but some studies also looked at the nutritional effects of avocado peels, seeds, oil, and pits and found similar health benefits. (Experts note you should just stick to the regular flesh of the fruit you typically eat.)
Heart disease is the leading cause of death in the United States, with more than 600,000 people dying of it every year. You should exercise regularly, avoid unhealthy behaviors like smoking, monitor your blood pressure and check in with your doctor to help lower your chances of cardiovascular problems.
And, as the study shows, it's also recommended that you practice good eating habits by consuming foods like avocados. If you're looking for a few delicious ways to incorporate more avocado in your life, try one of these mouthwatering recipes. You'll be doing your taste buds and your health a favor.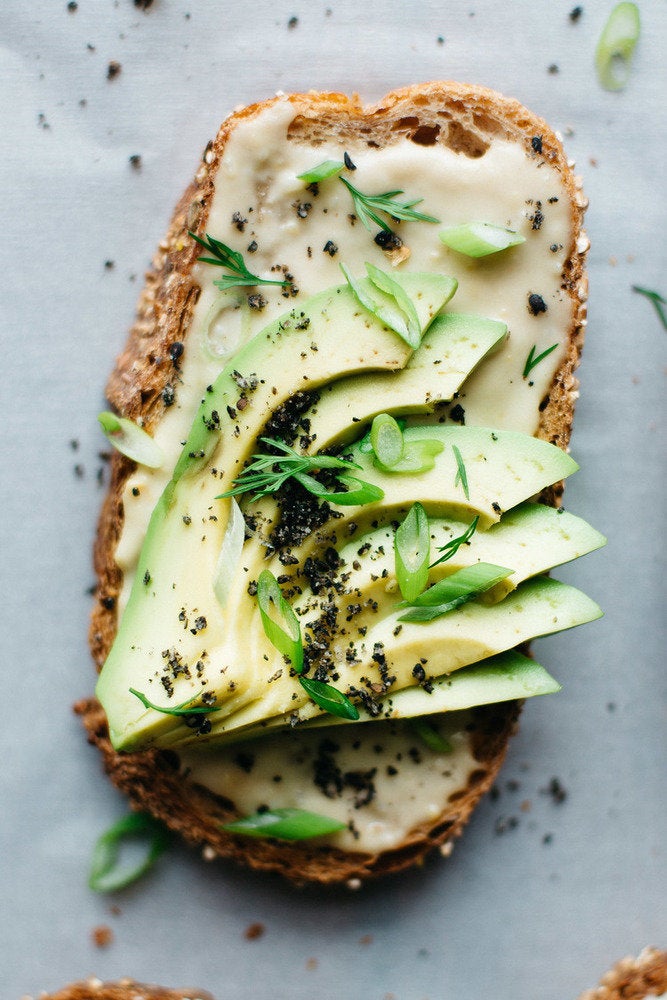 MISO-TAHINI AVOCADO TOAST W/ BLACK SESAME GOMASIO (V + GF)
the gomasio makes more than you will need here, so store in a lidded jar at room temp for up to 5-6 months.  i love sprinkling it on green salads, grain salads, roasted vegetables etc., etc. likewise, the miso-tahini makes approx. 1/3 cup and you will likely have leftovers which you can cover and refrigerate for 1-2 weeks.
| makes 4 slices |
black sesame gomasio ingredients
1/4 cup black sesame seeds
1/8 teaspoon large grain sea salt
toast ingredients
1/4 cup tahini paste
1 tablespoon mellow white miso
1 small garlic clove, minced
1/2 teaspoon fresh lemon juice
3-4 tablespoons water
splash of tamari (optional)
1 ripe avocado, pitted and cut into 4 segments
4 slices of toast, toasted
1-2 tablespoons black sesame gomasio
2 scallions, trimmed and sliced thin
fresh chopped dill, to top (optional)
Click NEXT PAGE for more Avocado Recipes.